Complete your Kitchen Remodeling with us!
There's no reason to settle for anything less than the best when it comes to custom kitchen cabinets in the San Antonio area. Especially since you have an exceptional team like Top Quality Cabinets to take care of your project.
We build very high-quality custom kitchen cabinets using a European style full overlay construction. The full overlay derives from a European style of cabinetry (allowing for 1/8" +/- reveals between doors and drawer faces).
This style focuses its design on the appearance of the doors and drawer faces providing the cabinet a very nice look. This style also maximizes the interior space of the cabinet which results in a nice benefit for the owner and it's the level of craftsmanship you should be able to expect from a custom cabinet company.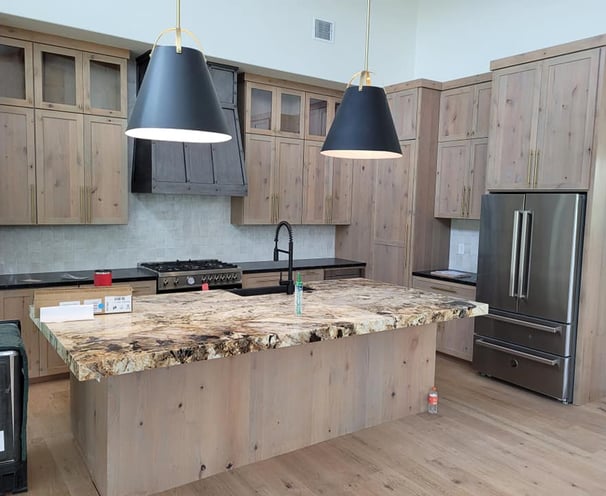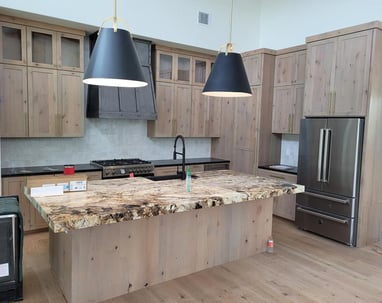 Custom Kitchen Cabinets: All About the Details
Our cabinet contractors are dedicated to providing superior products of the best quality in terms of materials, craftsmanship, and style. We go out of our way to use American-made products, whenever possible, to support our Country and local community.
If you're working on a kitchen remodeling project in the San Antonio, TX area, check out our upscale custom kitchen cabinets. We pay attention to every detail right down to the cabinet door options!
If you are considering kitchen remodeling ideas, one of the most significant changes you can make is to the cabinets. Over the years, cabinets get banged up and look out of shape as they are being used daily.

Replacing these old, worn out cabinets with new cabinets can really help transform the look and feel of your kitchen. Whether you are looking for cabinets to showcase your nice dinnerware or create other displays, we can help you choose designs with glass to enhance your kitchen.

From customized coffee stations and wine racks to spice holders and extra pull-out counter space, you've got a lot of options available. When you are creating your kitchen remodeling designs, think outside the box and then bring your ideas to us so we can create it for you.
When it comes to the custom kitchen cabinets for your San Antonio household, don't accept inferior quality-give our team a call.